L2 Litter
--

L2-kullen

Liane Wendt
Tåäng
Ambjörntorp 41
S 432 65 Väröbacka
Sweden
T. (+46) 0703- 27 44 59
liane@lhinacre.se
January 25th 2011
The grandmother of these puppies tested CLEAR of Primary Lens Luxation, that means that daddy "Takido" i genetically FREE and as mummy "Gunnel" also tested CLEAR, all the pups are
genetically CLEAR of PLL!
Farmor till L-kullen har DNA-testats för linsluxation och är FRI! Det betyder att pappa "Takido" är genetiskt fri och eftersom mamma "Gunnel" också testats fri så är alla valpar i denna kull
genetiskt fria från linsluxation!
March 29 2010
Funny how things can turn out! Marjo, who bought Dani, came down from Bålsta with her sister, and they where to stay at her sisters home for a few days. Marjos sister and her husband fell in love with Dani and they all decided that Dani is staying in Sweden! So now he's Don and lives in Bålsta! Good luck all of you!
Festligt hur det kan bli! Marjo, som hade köpt Dani, kom med tåg till Göteborg tillsammans med sin syster för att hämta honom och skulle stanna hos systern några dagar. Marjos syster Tiina och make Denny förälskade sig handlöst i Dani och de beslutade gemensamt att Dani skulle få stanna i Sverige, så nu heter han Don och bor i Bålsta! Lycka till allihop!

March 29 2010
The last puppy, "Puff", L Lookwhostalkin, or Oliver which will be his new name, left for his new home today. New dad, Raphael, already has a tibetan spaniel, so Oliver will have a good life. Good luck, will miss you:-(
Siste valpen, "Puff", L Lookwhostalking, eller Oliver som är hans nya namn, lämnade oss för sitt nya hem idag. Nye husse, Raphael, har redan en tibetansk spaniel, så Oliver får ett gott liv. Lycka till, saknar dig:-(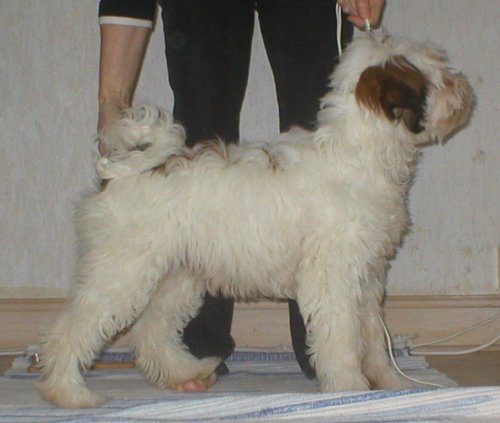 March 25 2010
Have just been to Gothenburg to deliver "Dani" L Lookdonttouch to his new mum. His new home is in Vaasa Finland. Good luck Dani and Marjo!
Har just varit till Göteborg för att lämna av "Dani" L Lookdonttouch till hans nya matte. Hans nya hem är i Vaasa, Finland. Lycka till Dani och Marjo!
Feb 23 2010
The pups just love the snow! Makes it easy for them to just walk over the fence, they don't even have to jump! Late this afternoon where all thre pups, Päivi included, on the wrong side of the fence! They had a blast! Had to dig a moat on the inside to prevent it to happen again. Exiting to see what happens when I let them out this evening!
Lookdonttouch is now spoken for. He'll stay another month before he goes to his new home in Finland!
Valparna älskar snö! Den gör det lätt för dem att bara kliva över staketet, de behöver inte ens hoppa! Sent på eftermiddagen var alla tre valparna, inkl Päivi, på fel sida staketet. De hade stenkul! Var tvungen att gräva en vallgrav på insidan för att förhindra att det händer igen. Spännande att se vad som händer när jag släpper ut dem i kväll.
Lookdonttouch är nu tingad men stannar ännu en månad innan han flyttar till Finland.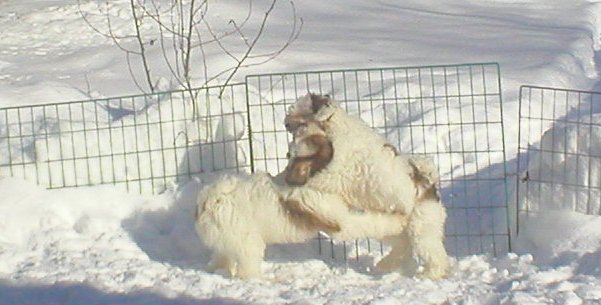 Feb 12 2010
Just got the results on Gunnels DNA-test from AHT in England. She is CLEAR of PRIMARY LENS LUXATION!! That means her puppies can not develop PLL. The grand dad on fathers side is also clear of PLL.
Fick precis svaren på Gunnels DNA-test. Hon är FRI från LINSLUXATION! Detta innebär att ingen av hennes valpar kan få LL! Också farfar är fri från LL.
feb 11 2010
Still available; the 2 white/sable males. Both are nice looking and have sweet temperaments.
De två vita hanarna söker goda hem. De ser trevliga ut och har bra temperament.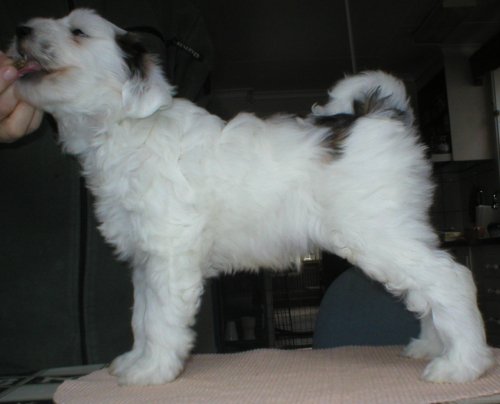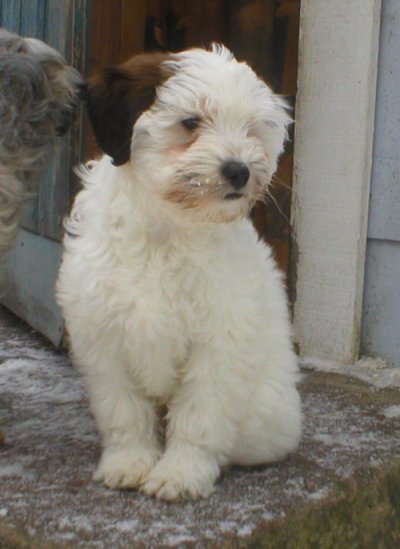 Lhinacre Lookwhostalking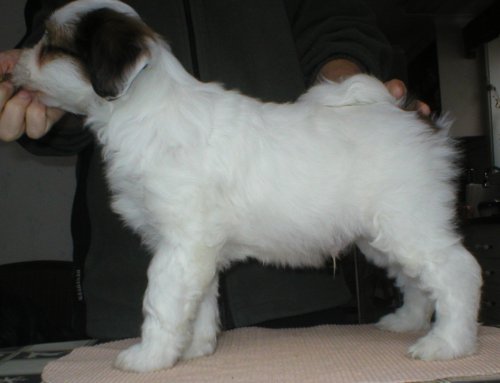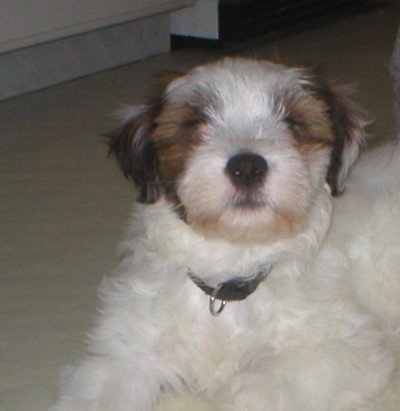 .Lhinacre Lookdonttouch

Jan. 11 2010
The sable male L. Lateformydate left today.
Sobelhanen L. Lateformydate flyttade idag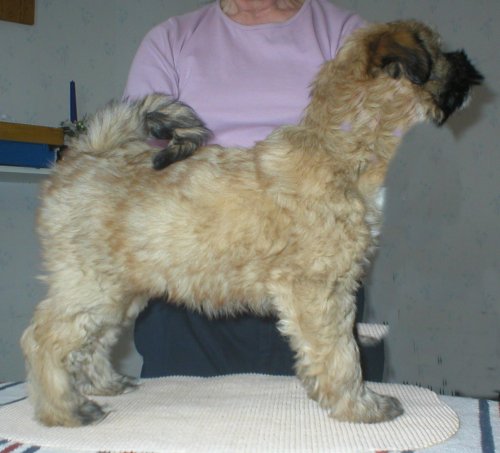 He's going to live with his sister Klarah in Fjällbacka.
The female L. Loveshinealight has moved to Denmark and the black male L. Loudnproud moved to Helsingborg.
Han skall bo hos sin syster Klarah i Fjällbacka.
Tiken L. Loveshinealight har flyttat till Danmark och den svarte hanen L. Loudnprod bor i Helsingborg.

<<<<Link to video with puppies on Dec. 7th, at almost 6 weeks of age>>>>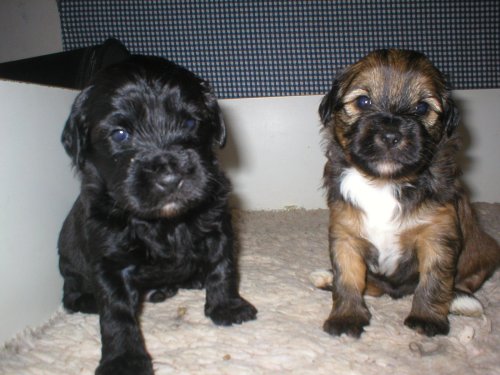 Black male and sable female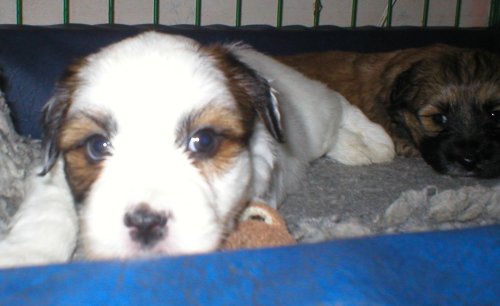 White with sable markings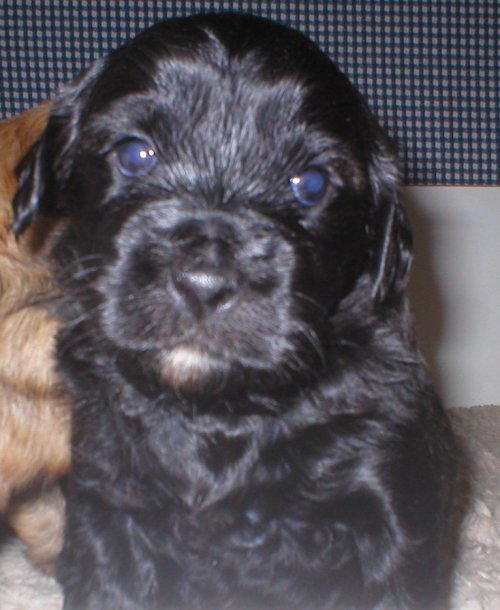 Black male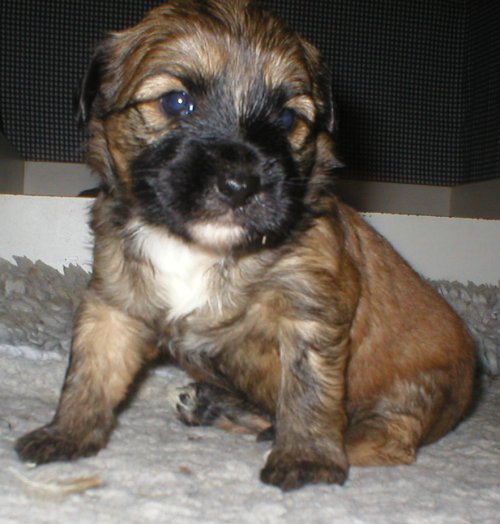 Sable male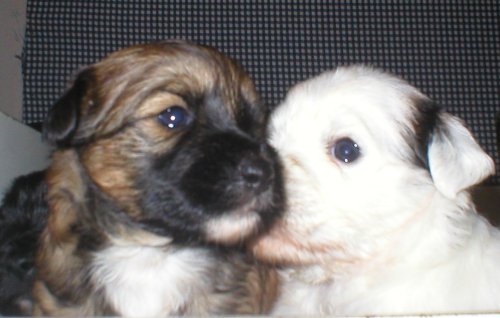 Sable and white/(black)sable males
<<<<Link to video with puppies on nov. 11 at 20 days of age>>>>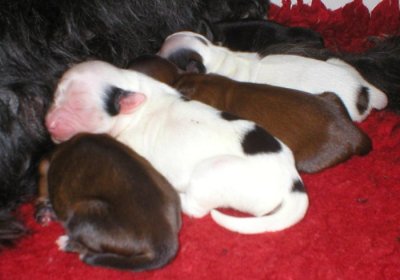 Puppies a 2 days of age, all doing great!
Valparna vid två dagars ålder, alla mår jättefint!
¤¤¤¤¤¤¤¤¤¤¤¤¤
Gunnel gave birth to 5 beautiful puppies, 4 boys and 1 girl, on ocotober 28th
Gunnel födde 5 jättefina valpar, 4 pojkar och 1 flicka, den 28 oktober.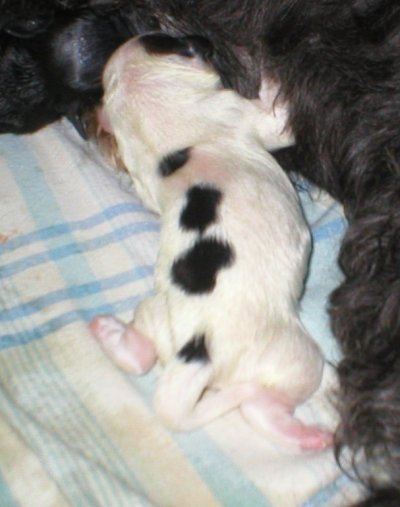 First born at 3.53 p.m. a white male with black markings, weight 210 grams
Först född kl 15.53 en vit hane med svarta tecken, vikt 210 gram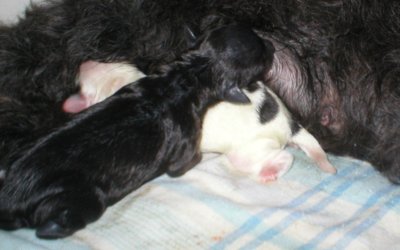 Second, at 4.35 p.m. a pitch black male, weight 220 grams
Därefter, kl 16.35 kom en kolsvart hane, vikt 220 gram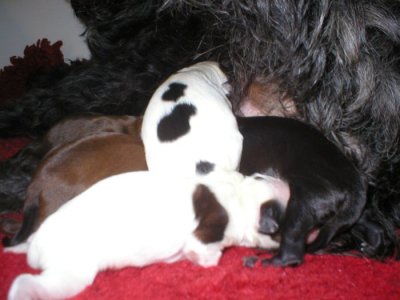 As # 3, at 4.51 a white male with sable marking, weight 160 grams
Som nr 3 kom en vit hane med sobel tecken, vikt 160 gram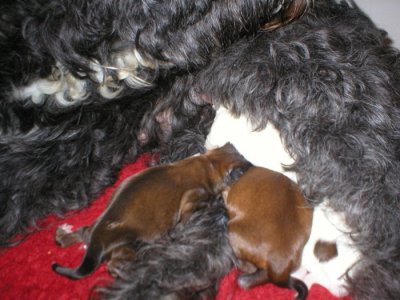 and finally, at 5.21 and 7.14 p.m. 2 sables with white markings,
the male weighed 175 grams and the female weighed 160 grams.
och slutligen kl. 17.21 resp. 19.14 kom 2 soblar med vita tecken,
hanen vägde 175 gram och tiken 160.
Mother and children are doing great!
Mor och barn mår jättebra!
Milington's Undercover "Takido"
(SCh Milington's Question Mark - Mocowodos Ay-Am Ammelie

Lhinacre Falsealarm "Gunnel"
(Thanee's Fool For You - SCh Lhinacre Wanna B Wild)